What are "Sell Gold Parties"?
Gold parties are similar to tupperware parties, where you sell your gold. The parties have become increasingly popular as ways to get some extra money during these tough economic times.
Some may offer you legitimate prices for your gold but others have been known to be scams and give you pennies on the dollar. We are committed to and we want to help you avoid gold party scams; so instead of attending a party hosted by someone you don't know, we recommend you host your own. That way you won't have to check references about the person or group hosting the party.
Hosting your own gold party is becoming very popular and it is essential for avoiding scams.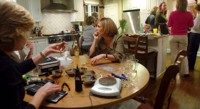 At your hosted party we will buy gold, silver, coins and platinum from you and your friends for further refining and processing.
Seguin Gold will help you organize your gold party for people keen to sell unwanted gold items where they bring their gold and they can walk away with cash. We offer you and your guests Fast Cash! Just ask your friends to bring their unwanted jewelry to your hosted party and we will pay cash on the spot.
Here's what one satisfied gold party host said about us:
I had a Gold Party with Seguin Gold (Yesterday) and they were amazing. They came all the way out to San Marcos, set up all their stuff early and were all ready by 2pm when the party began. They were honest & gave my friends & I excellent prices on everything. If something wasn't worth what we wanted for it they had no problem, we just kept it & sold what we did want to get rid of. They will just give you a fair price & you decide to take it or not. No hassling or bargaining or stress.
It's really amazing to have a business this trustworthy & I will be recommending them to everyone I know. We raised about $1500 dollars for a mission trip to Haiti through the party!!!

I hope more people choose to have Gold Parties & I plan to host more in the future if I get the chance. It's a great idea for fundraisers-FUN & just a good excuse to get together with friends & make money.

Thanks so much!

Lisa

Host your own gold party and we will pay you $50 just for hosting it!
"CLICK HERE FOR DETAILS"