A little about us...
Located in Texas, Seguin Gold Silver and Coins is the most honest & trusted precious metal buyer, buying and selling gold, silver, platinum and coins since 2010. Owner and founder, Jorge Gurza, currently manages the company and helps clients get cash anytime they need it.
We're a full service family owned and operated precious metal and coins dealer. We leave it to people to rate our service by providing testimonials and reviews in our store or directly on our website, PLUS, we are blessed to have an excellent repeat customer and customer referral ratio... If in doubt, just check our testimonials.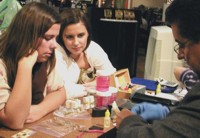 At Seguin Gold we buy scrap gold, platinum, silver and coins for further refining. We are located in the Seguin Mini Flea Market EVERY day and we can also be contacted to make an appointment so we can buy your gold.
How many gold buyers open their doors after midnight to buy unwanted jewelry from a customer who needs the money for an emergency?
WE DO... we Provide Emergency Cash Service to People in Urgent Need of Cash and When They Need it Most!
We strongly believe that people should get a fair cash payout as compared to pawn shops and jewelry stores. That is why we pay over 40% to more than DOUBLE what pawn shops and jewelry stores pay.
Come see us or give us a call; we will be happy to pay you for your gold jewelry.