recycle & CASH IN old jewelry!
Economic times are tough. Call it a recession, economic downturn, no matter how you call it, everyone is hurting. The good thing is that you are not alone and there are things that you can do to get a little cushion of support.
During tough times, people cut back in many areas, but mainly in buying unnecessary goods. When we find our paychecks barely covering our monthly bills, it is not hard for us to give up luxury items.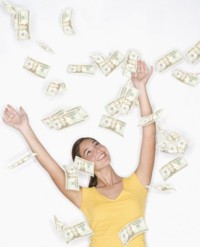 With inflation rising faster than our paychecks, we find ourselves getting rid of things we own but we don't need. Some people are fortunate enough to sell us old gold jewelry items that they don't even wear. A number of people are digging into the bottom of their jewelry box finding old jewelry that they didn't even know they had. They simply brought it to SeguinGold and received $500 to $1000 cash! During these times, cash like that is priceless!
Even though jewelry sales are way down, gold prices are up. This makes it the perfect time for you to capitalize on selling your old jewelry. Many people think those old necklaces or earrings are worthless until they receive cash from us that can cover the car payments for a couple of months. This is much needed relief for most of us these days.
There is no doubt that today is the right time to sell jewelry and Seguin Gold .com will make sure you get a nice cash payment.