To pawn or NOT to pawn?

How do pawnshops work?
Your jewelry might hold special value to you, but you'd be surprised to learn how little value it has in a pawn shop.
We recently took a $140 gold wedding ring to a Seguin jewelry pawn shop and asked them how much they would offer... Their answer was, "$10"
In return for pawning the wedding ring we would have received $10, then we would need to pay $12.20 (that's 2 percent interest plus 20 percent in fees on the $10) in 30 days to get the ring back. Within 30 days, there are three options:
Return to the pawn shop and pay the full amount ($12.20 in this case) to retrieve the ring.
Return to the pawn shop and pay the monthly fee ($2.20 in this case) to extend the loan for another 30 days. At this point, we'd have to enter into a new contract for the next 30 days where they would make us pay 22 percent on the new principal, $12.20 (for a total of $14.88).
Do nothing, in this case the pawnshop keeps the $140 ring and sells it.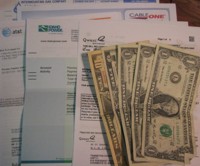 Basically, that is how a pawn shop works. If you need $100 to make it through the week until your next paycheck, where are you going to get the money? A pawnshop is a VERY EXPENSIVE way to get extra money; $2.20 fees due in 30 days for a $10 loan is a very high rate, that's 264 percent per year! Besides they will not give you a fair amount of cash for your jewelry, you'd be lucky to get 40 percent.
We hope we made the case that a pawn shop is not your best choice for selling your jewelry; we pay higher rates, over twice as much in some cases!