Gold Coin Buyer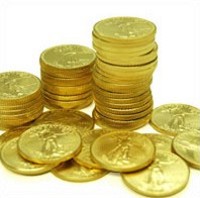 Sometimes people ask us if we buy single gold coins or full collections. Yes, we buy coins and we also pay top money as we do with jewelry or scrap.
There is no doubt that today is the right time to sell gold coins. Rest assured that at SeguinGold.com we will make sure that you get a fair payment for what your gold coins are worth.
If you are looking to sell your coin collection for a nice profit, then bring it to us so we can give you a quote of how much we would pay for your gold coins.
We are located at the Seguin Mini Flea Market and open EVERY day; or you can contact us to make an appointment.
Here's a list of the most common gold coins we buy and sell:
GOLD COINS
United States Gold Coins
1849-1854 Liberty Gold Dollar Type 1
1854-1856 Liberty Gold Dollar Type 2
1856-1889 Liberty Gold Dollar Type 3
1840-1907 Liberty Quarter Eagle
1908-1929 Indian Quarter Eagle
1839-1908 Liberty Half Eagle
1908-1929 Indian Half Eagle
1838-1907 Liberty Eagle
1907-1933 Indian Eagle
1849-1907 Liberty Double Eagle
1907-1933 Saint Gaudens Double Eagle
Other Countries Gold Coins